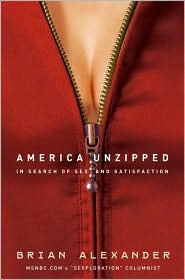 My husband pointed out this book to me during our most recent visit to Barnes and Noble, and it looked intriguing, so we bought it in hard cover. I'm very glad I read it, but it didn't teach me anything I don't know about the American "underbelly" of sex (except the chapter about the evangelical sex counselor--that was freaky).
Alexander, a columnist for
Glamour
and writer of MSNBC.com's
Sexploration column
, wanted to know what the questions he received from his readers revealed about America: "I was surprised that so many questions were about sex I always assumed was carried out in real life only be a tiny fringe in swanky apartments conveniently located near the British parliament," because "If my readers were at all representative, I wondered how it could be that so many people existed in the same country that was experiencing a national freak-out over the possible baring of Janet Jackson's nipple" (6). As such, then, "I wanted to know who these sexual explorers were; if the scene had really changed as much as I thought, and if so, why so many people were doing what they were doing; what influences were inspiring them; and most important, if they were finding any happiness by doing it" (13).
Oh, and please be warned that most links from here on out are very much NOT safe for work.
Alexander spends a chapter each on:
1. PHE, the sex-toy and video empire that is built of
Adam and Eve
stores, and the
Sinclair Institute
;
2. The evangelical Christian sex preacher,
Joe Beam
;
3.
Fascinations
, one of the recent sex box chains (we have Priscilla's in my town);
4.
Passion Parties
;
5. Web-based virtual sex and meeting people in real life from sex sites;
6. Porn artistes (
Madison Young
and
Kink.com
);
7. A BDSM convention;
8. A well-known fetish club in Seattle,
The Wet Spot
.
What he has to say is not new or exciting to anyone with a medium level awareness of how much the Internet has changed the sexual culture and with a minimum amount of using that change to explore sex themselves. While often amusing, Alexander is very much an outsider to the culture he observes. He has sex, obviously (happily married, apparently), but he projects himself as vanilla as they come (harhar). He's very much performing like an old-school anthropologist and I was often forcibly reminded of Janice Radway and her discussion, as a non-reader, of romance readers. He is bored and exasperated when people answer "The Internet!" to his question of why sex has changed so much, become so mainstream, in the last 10-15 years. "Yes", he seems to say, "but there has to be more! That can't be the only answer!" He seems unwilling to take people at their word: of the BDSM convention, he says, "there is a determined self-consciousness about it all that feels forced" (261), without saying why it feels forced.
Overall, I found his relentless focus on sin and shame as the main, or indeed, the sole, lens for analysis as forced. As much as he thinks the sexual "outlaws" force their attachment to their outlaw status (201), I think his focus on sin and shame was forced, and, to be honest, completely outdated. Just as Radway came to romances "knowing" that they were all about patriarchal oppression, and couldn't step away from her assumptions to analyze romances with an open mind, Alexander "knows" that the new sex and sexual culture is all about taboos and sin and feeling like outlaws and pioneers. Instead, by insisting on this analysis, he reveals more about himself than he does about the "cultures" he observes and analyzes.
He asks of a femdom:
why she thinks America has become a more wide-open country sexually, which seems to defy the common wisdom that we're becoming more buttoned up, she tells me she agrees that sexual experimentation like hers is becoming much more common. "And that's a shame." Pamela is the first person to say such a thing to me and I think she is the first person who has been completely honest about this. Everyone else has told me how happy they are that experimental sex and porn and toys are gaining acceptance, but I have always doubted them. Pamela derives pleasure from rule breaking, so "it is sad that fetish wear is so mainstream now." (276).
Just like Radway, then, he refuses to take his subjects at face value, refuses to analyze them on their terms. And while it's important to realize that people in a particular culture or society might not be able to be objective about their culture and to try to think about alternate perspectives that are worthy of discussion, one also shouldn't completely discount what they say, either. Alexander not only discounts his subjects, but at times ridicules them in disturbing ways: "I feel such an overwhelming contempt I am alarmed" (262). And while he has learned the bare knowledge of how people all over the country explore sex, he hasn't begun to touch on the why, even though the why is precisely the aim of his journey in the first place.
Alexander's own fetish, his own axis of sexual orientation, is one of taboo and sin:
What if taboo--sin--did not exist? In the absence of sin, in a world devoid of condemnation, what fuel could Pamela use for heat? I have often joked with friends that I owe the Catholic Church a great debt for making sex dirty and therefore much more fun. I'm not sure how I could function, sexually speaking, if I didn't think I was committing a sin, somehow.

...Condemnation may be the biggest favor any religious or political moralist could do for sex, especially now that sex is available anywhere and therefore no long controllable.

But what happens when we kill sin and make sex akin to buying new snow tires?
Alexander needs to see sex as sinful in order to operate, and his entire book is founded on this premise. So when he meets people who just don't see sex this way, who don't have this complication, this fetish, he is bewildered and distrustful.
"Sex, porn, bondage, S&M--none of it is transgressive anymore. There is no danger in it," Alexander claims, and he sees this as problematic. I see this as supporting my argument about polysexuality, which I presented at PCA this year and goes, in part, thusly:
BDSM is a sexual orientation both analogous to and concurrent with Kinsey's continuum of heterosexuality/homosexuality. Being kinky is not just something one does in one's bedroom, not just a classification of sexual actions, but is an identity. In Beneath the Skins, Ivo Dominguez Jr.'s call for a BDSM community identity and activism similar to that of the GLBT community, he argues that while Kinsey's ground-breaking "concept of sexual orientation made it possible to see homosexuality as a deeply rooted part of self-identity rather than as a perverse choice" (15), it inadvertently created a "myth of Monosexuality" which envisions sexuality as a single "continuum with heterosexual and homosexual as its poles" (16). Monosexuality, then, precludes even the possibility of additional sexual orientations that are just as deeply rooted in the psyche as the traditional orientation of gender attraction; instead, other alternate sexualities besides homosexuality are seen as sexual practices. In opposition to the traditional doctrine of monosexuality, Dominguez posits instead a theory of polysexuality: "a complex pattern of many continuums, each describing an important part of the individual's sexuality" (16). Expanding Dominguez's definition, then, I argue that polysexuality includes at least the axes of heterosexual/homosexual, monogamous/polyamorous, top/bottom, butch/femme for women or masculine/effeminate for men, voyeur/exhibitionist, public/private, sadist/masochist, and dominant/submissive, with the additional complications of alignments for bondage, role play, or many more specific fetishes.

For every individual, one or more alignments dominate the others, acting as the primary sexual orientation(s), with the others relegated either to secondary or to absent status, a subtle, complicated balance that has a different combination of fulcra for each person. For example, domination could override gender attraction as a sexual orientation: the gender of the partner being dominated is then immaterial to the arousal caused by the act of dominating someone, and the dom is, for all intents and purposes, bisexual. Or an extreme fetishist could be sexually aroused only in situations that include the fetish in question, making any other axis immaterial. Most importantly, though, sexual identity can change over time or in different situations or with different partners, and movement through the matrix may be along multiple axes, and may change direction on any axis. A male rather than a female partner may move an individual's location on the domination/submission axis, for example. Or a sadist may prefer to bottom for sex if not being actively sadistic. Rather than a single "choice" between gay, straight, and bi, with some kinky activities thrown in for fun, seen this way, sexual identity is instead a multi-dimensional, inter-woven, ever-changing combination of orientations.
It is this concept of polysexuality that Alexander fails even to conceptualize, let alone understand. He's stuck in his own unconscious axis of shame and taboo as his "hot" button when it comes to sex and completely fails to understand that if sex is no longer exciting because one is breaking a taboo, it is exciting because one is freely able to express one's (poly)sexuality. The complete absence of taboo and/or shame as a concept in the sex lives of the people Alexander was observing means that they are free to follow their desires, rather than struggle against that taboo.
This might be an overly optimistic, even idealistic way of viewing the world, but I think it goes to explain the rise and success of erotic romance, as well. There's lots of other things that explain that success (Alexander's least favorite answer, "The Internet!" being the main one, because erotic romance is by and large based in the e-book industry, which provides instant gratification at any time of the day or night with a mouse click), but I think erotic romance is part of the new sex culture and sexual culture (slightly different phrases, I think) that Alexander failed to understand.
Works Cited
Alexander, Brian.
America Unzipped: In Search of Sex and Satisfaction
. New York: Harmony Books, 2008.
Dominguez, Ivo.
Beneath the Skins
. Daedalus Publishing, 1994.